the poetic and the pandemic
After six months of writing haiku and working on this text walking video, the poetic and the pandemic is finally completed. I share it with you here, with the hope that all of you are staying well and finding creative ways to manage through this strange and challenging time.
More information on the video can be found on the post/page for the poetic and the pandemic.
(Tuesday, September 1, 2020)
*    *    *
go fish (a little ginger tune)
Lately, I've been thinking a lot about this little video tune that I created back in 2005, so I thought I'd share it here. It's just over a minute in length. 
(Sunday, September 20, 2020)
*    *    *

With the COVID-19 pandemic keeping me mostly inside the apartment, one of the things I thought I could do, is to try and mail out more everyday poetics postcardie letters. I thought that maybe finding a tangible, physical, personal piece of mail in one's mailbox would be something others might appreciate, especially at this time when we've been asked not to gather or to visit with each other. 
I have stamps. And thankfully last month I bought a new box of MOAB's Entrada Rag Paper, so I can keep printing postcards. Well, at least until I run out of printer inks.
Last week I figured out that it takes one stamp to mail out an envelope with three postcards in it. So although in the past my postcardie letters would often be longer, at this time I'm limiting each letter to three postcards. This way, I don't need to make trips to the post office to get my postcardie letters weighed. I can just drop them in a mailbox, whenever I go out for a short neighbourhood walk (keeping a distance of at least 6 feet from others, of course). 
Today, I've started to make envelopes since I ran out of the store bought variety. And I'm remembering how satisfying it is to be making what I need from scratch or with whatever I have on hand. This process I realize is also comforting. 
(Tuesday, March 24, 2020)
*    *    *
bird is the word (nine days to Martha)
I started working on a bird is the word video back in the winter of 2015, after visiting Martha in August of that year, while she was on display as part of the Smithsonian's exhibition Once There Were Billions: Vanishing Birds of North America. There were many reasons why that video never got finished. And there are many reasons why this past winter I felt I had to return to it.
During the past few months I've enjoyed and appreciated the slow and labour intensive process of video editing this piece. It has offered me space to be with feelings of loss and beauty … to listen once again to what is heard and not heard … to think about the pace and rhythms of daily life. It has reminded me of how much there is to experience and re-experience. And how much there is still to learn.
On this first day of spring, it feels good to finally post and share what has become bird is the word (nine days to Martha). This video is 19 min. 17 sec. in length.   
 (March 20, 2019)
*    *    *
a frail history: thirteen poems disguised as a passage
The text for a frail history: thirteen poems disguised as a passage was written on March 26th, 2014 for Ectopistes migratorius (the now extinct passenger pigeon).
Martha, who was the last surviving passenger pigeon, died on September 1st, 1914 in her cage at the Cincinnati Zoo. After her death she was packed in a block of ice and shipped to the Smithsonian Institute in Washington, D.C. where she now resides (if you can call it that).
The photographs I used for this bookwork were taken at Athabasca Glacier in August 2014, during a three-day return trip to be in slow conversation with that deep and quickly melting ice.
(Tuesday, April 14th, 2015)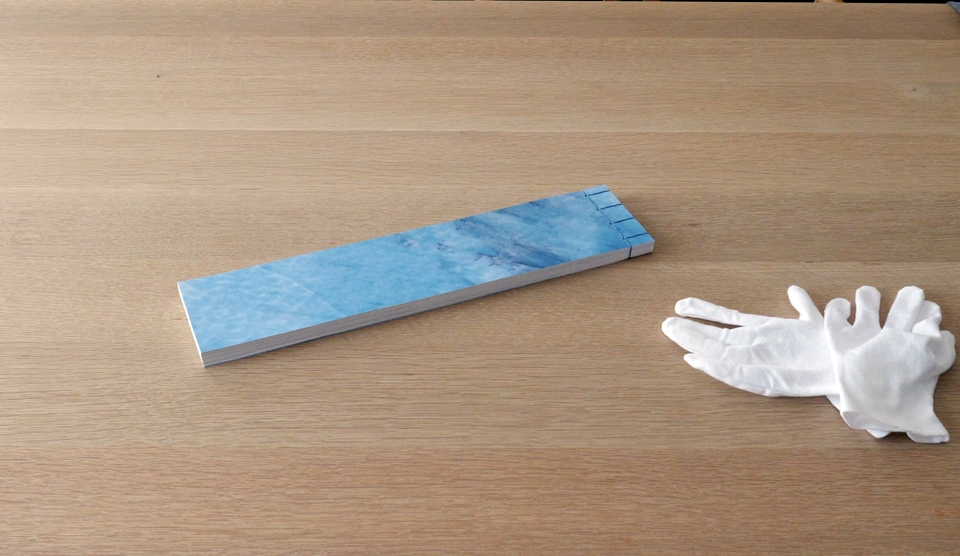 a frail history: thirteen poems disguised as a passage is a pair of white cotton gloves & a hand bound bookwork. The approximate dimensions for this bookwork are 10.16 cm X 48.26 cm X 4.445 cm (4″ x 19″ x 1.75″).
More images, as well as excerpts from the poems, can be found on the page/post for a frail history: thirteen poems disguised as a passage. 
*    *    *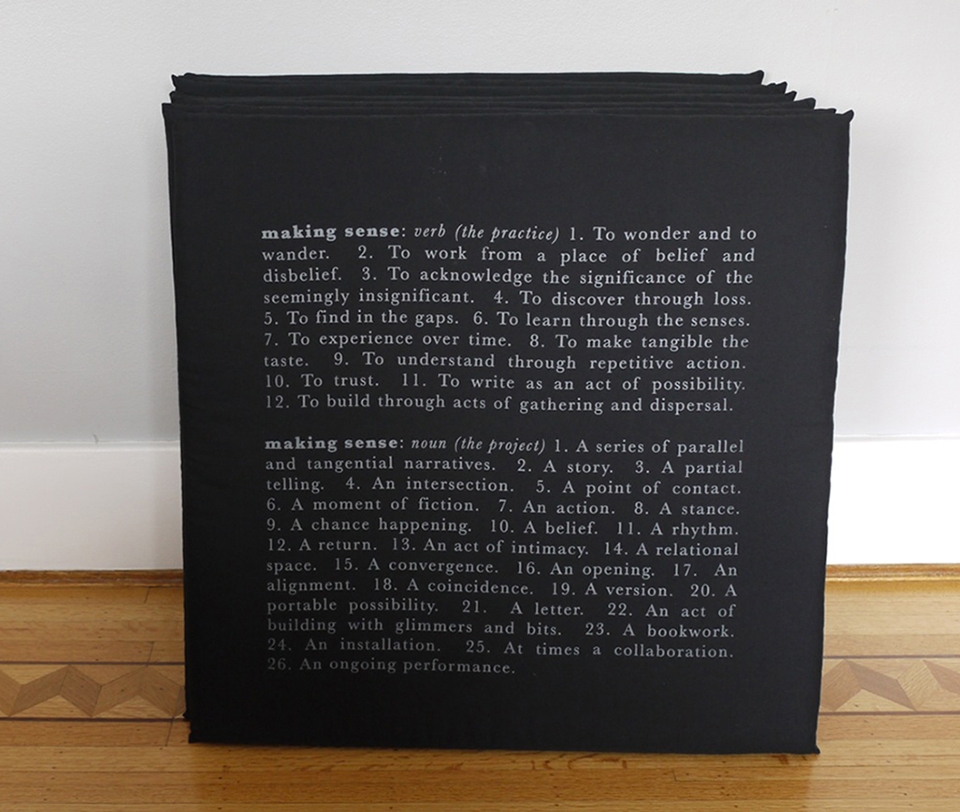 This morning, after meditating in my hallway studio (where a couple of the making sense cushions are leaning up against one wall), I re-read the cushions. And I was struck by how much this text still makes so much sense to me.
The line (or thin membrane) between creative practice and daily life often feels non-existent. The separation I suppose barely exists, if it exits at all. That's a thought that has been crossing my mind more often these days.
These definitions for making sense were written and silkscreened onto cushions back in 2006.
(Tuesday, March 3, 2020)
*    *    *
she tastes, she stumbles, she barely remembers / she ponders, she listens, she wanders, she wonders … she rambles, she scrambles, she whispers, she blurts … she weaves, she unravels … she retells a story … she inhales, she exhales, she sputters, she coughs … she wraps, she folds, she carries, she holds / she aches, she breaks, she hums, she heals … she trusts, she builds, she taps, she types … she shouts, she cheers, she can't really whistle … she rewrites, she repeats, she starts out a new …
(An excerpt from one of the furoshiki in FUROSHIKI PROJECT, an installation created in 2002.)