Regina Walks, which is part three of the poetic and the pandemic project, was launched and screened at the Regina Public Library's Film Theatre on Friday, September 10th. The video is being featured in the Mediatheque space at the Dunlop Art Gallery in Regina, Saskatchewan from September 11th until December 10th, 2021.
To view the video here on my website, just scroll down to the bottom of this page.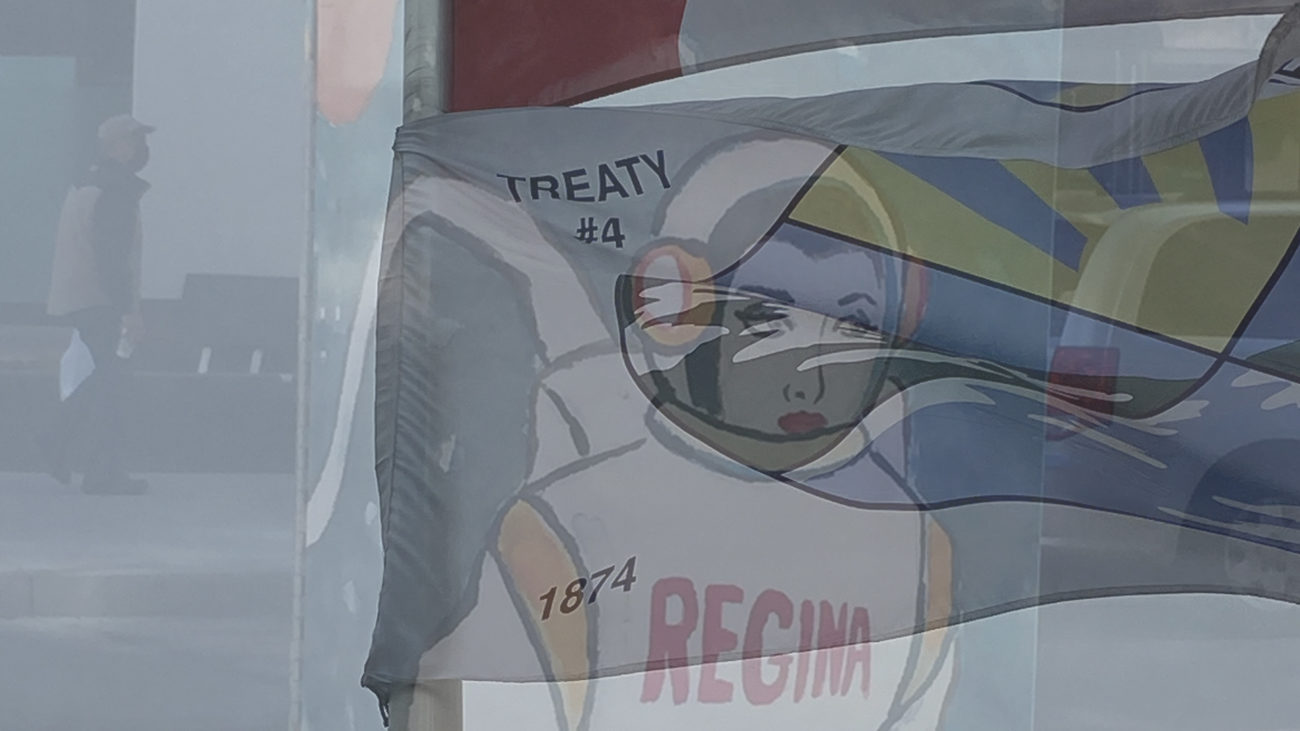 * * *
Once we were into this second year of living with this pandemic, with the added stress of new variants on top of the ongoing rollercoaster ride of restrictions, I found myself beginning to feel not only fatigued but at times overwhelmed. Even so, I continued with my creative practice, in one way or another. And I am thankful to have this practice, for it helps me through the tough days and continues to reground me. And it reminds me, once again, that challenges can also be opportunities and openings for new experiences.
When Tomas Jonsson (the Moving Image and Performance curator at the Dunlop Art Gallery) asked if I'd be interested in screening my project at the Dunlop and creating a new text walking piece for the show, I was excited. But I also found myself wondering how I'd be able to do this, given the pandemic restrictions at the time. How could I create a new text walking piece for Regina, if I couldn't travel and be there text walking?
Up until this point, I had always done the text walking for my projects myself and I had never even considered working with images taken by someone else. Would it be possible to have others text walking for me? I wondered if I would even be able to write poems or other pieces, using photographs of text that others had taken. And I wondered also, if anyone would even be interested and willing to do some text walking for this project. In the spirit of embracing unknowns and trusting the process, I decided that I'd give this a try … that is, if we could find a few text walkers.
My heartfelt thanks goes out to Joely BigEagle-Kequahtooway, Iris James, Zoë James, Savannah Kosteniuk, Barbara Meneley, Gary Varro, and Mark Wihak who all generously offered to text walk various neighbourhoods and streets in Regina for this project. And to Tomas Jonsson as well, who did an initial text walk for me back in January (from which I've written an intro poem for this project).
I had no idea really, what each of the text walkers would end up sending me. Where they walked, how many walks they did, and of course what photographs they took and sent me, were things that were left up to them. I would then work with whatever material they sent me, to write/build a poem or poems for each one of their text walks. I wanted to honour each of their walks in this way.
In the earlier parts of the poetic and pandemic project, I wrote either haiku or short poems from material gathered on my neighbourhood text walks. For Regina Walks, I decided to not limit myself to only short poems. However, since we were still living with pandemic restrictions, I wanted there to be certain restrictions or parameters that I would have to work with as I built these poems. So, I decided to try and see if I could write these poems using unrhyming couplets.
The process of working on Regina Walks has been a continual delight, as well as a challenge for me. I am grateful for this experience and for this opportunity to work with each of the Regina text walkers. Tomas, Joely, Iris, Zoë, Savannah, Barbara, Gary, Mark — THANK YOU so much for participating and text walking, and thank you also for trusting me with your photographs.
As I continue to work on this project, I'll try to return to this page from time to time, to share more about my process.
(Friday, June 18th, 2021)
* * *

Each time the text walkers sent me a folder of photographs for one of their walks, I asked them if they could also let me know what route they took on their walk. The method they chose for sharing their route was up to them – it could be simply naming the neighbourhoods and streets they walked, or plotting their route on a Google map, or whatever other method worked for them. Their descriptions or route maps helped me to not only get a sense of where they walked but it was a way for me to begin to get a sense of Regina.
(Monday, September 13th, 2021)
* * *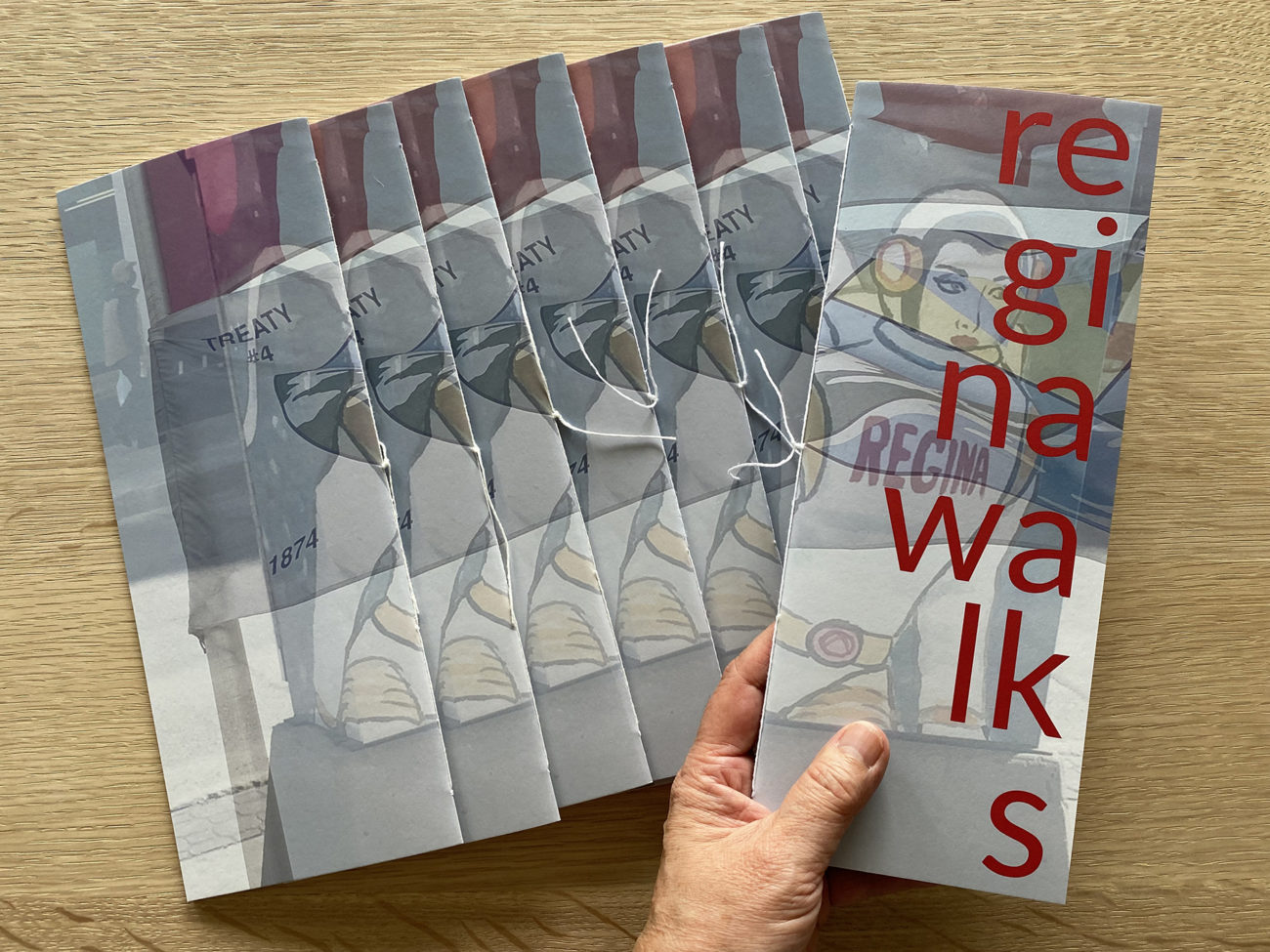 I didn't initially think I'd be making a bookwork for Regina Walks, but in the process of writing the poems and working on the video, I found myself once again thinking about the different ways a poem (or for that matter, almost anything) is or might be experienced. A poem read by oneself, silently or out loud, is quite different than listening to a poem or watching a poem unfold over time.
The interior pages of this bookwork are simply the poems, written in unrhyming couplets. This form was chosen, in part at least, to reflect both the walker and me in relationship — both of us a part of a poem's coming into being.
This bookwork has been printed in an edition of 25.
(Thursday, September 16th, 2021)
* * *
* * *
While I was on my website today, I found myself wondering why I didn't initially add this Regina Walks page to 'arrivals & responses' (in the menu) — after all, writing the poems was a way of not only being with, but responding to, the photographs each of the text walkers sent me. Anyways, today it's added, and I do so with a feeling once again of deep thanks to all the text walkers, for walking and photographing, and for trusting me with the images they gathered on those walks.
(Tuesday, September 5th, 2023)