sweet brine is a quick pickling poem (a 50 second video), created as a part of the conversations and exchanges that I've been having with Jon Sasaki for the Yume. Digital Dreams project. Fourteen artists of Japanese heritage – representing diverse disciplines, geographies, and generations – were invited to participate, to connect online, and in collaborative teams of two to be in conversation and to create together over a four month period (February – May, 2022).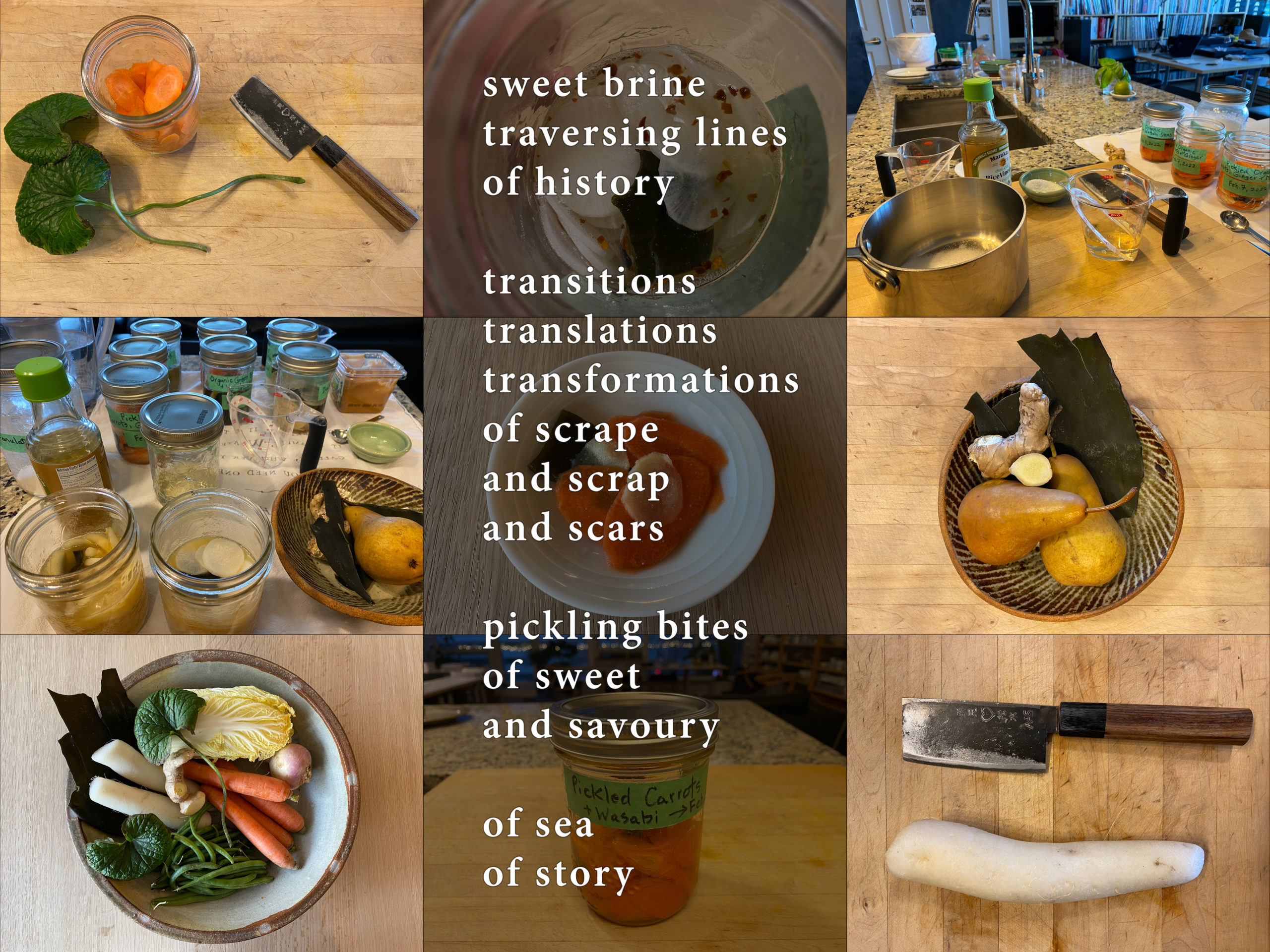 Stills from the video.
The collaboration between Jon and I has been one of exchanges. For the first three weeks, twice a week, we would send each other a new piece, as well as a response piece to what the other previously sent. These works/pieces/responses took various forms – sometimes it was a photograph, an audio recording, a video, a reflective piece of writing, some questions, or a bit of story. Since we didn't know each other before the start of this Yume collaboration, our back and forth exchanges were a way to begin getting to know each other.
Recently, as I've been quietly sitting and reflecting on our process – I've come back to thinking about how the very act of responding, is, and can be, a form of building … a form of sharing & discovery.
In fact, the "arrivals & responses" category in the menu at the top of this website is something I've been wanting to give more thought, space, and time to, for quite awhile. I've received some wonderful notes, cards, letters, and pieces in the mail or online … and there have also been works that I've come across or that have been generously shared with me over the years, that I've wanted to respond to. With all the goings on and challenges in daily life however, I haven't felt like I've had the space in my days for developing this aspect of my practice as fully as I hoped I would. Maybe this collaboration with Jon is just what I needed, to settle back into responding as a creative practice.
*   *   *
I am grateful for the invitation from Julie Tamiko Manning and Matt Miwa, to participate in Yume. Digital Dreams and for this opportunity to be in collaboration with Jon Sasaki.
Together with the other artists participating in this project (Dawn Obokata, Kayla Isomura, Linda Uyehara Hoffman, Kunji Ikeda, Michael Fukushima, Lillian Michiko Blakey, Shion Skye Carter, Miya Turnbull, Teiya Kasahara, Noriko Kobayashi, Will Shintani, & Hitoshi Sugiyama), with Yukari Peerless and Rie Nakamura (as our support team), and with Julie Tamiko Manning and Matt Miwa, this project feels like another rich and wonderful layer of community building.
For more information on the Yume. Digital Dreams project, you can go to the project's website: https://yumedigitaldreams.art
(March 7th & 10th, 2022)