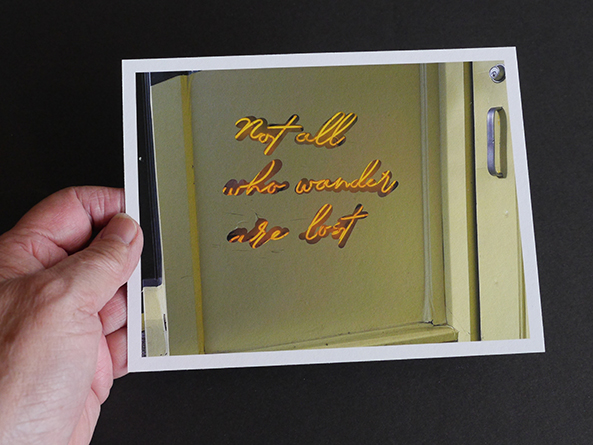 wander
     with a lullaby
     rising seaside
     i wander,
     not lost
     as little things, land back
     in the hand
     & echo, from seams —
     a present kind of beautiful.
On a recent trip to Vancouver, there was a day when I was struggling more than usual. I felt exhausted. And instinct told me that it was a good day to have no plans but to just allow myself to wander, so that's what I did. I wandered the streets, returning to the hotel to rest whenever I felt I needed to.
As I was walking along one of the busy downtown streets, this bright yellow neon text caught my eye. I had to bend down a bit, in order to read it. "Not all who wander are lost" — this made perfect sense to me, of course, but I couldn't help but smile a huge smile because I had walked this street many times on previous days, and hadn't noticed it before. It felt rather uncanny that it was on this particular day — a day when I knew I needed to just wander — that I noticed this wonderful bit of wise neon. 
Once I got back home, I decided to try and see if there was a poem that might surface from the text walking images I gathered from those days in Vancouver. And that's how this poem wander was written.
(Friday, March 24th, 2023)