Back in July of 2013, I began writing a running reflection on book as … book as body, book as stream, book as letter, book as seam, etc. And that running list eventually grew into a poem titled book as.
I kept thinking about this poem, on and off over the past couple of years, and then earlier this summer I finished rewriting the poem. One thing that I felt almost immediately, while working on this piece, was that it had to be read out loud. It seemed to need that kind of vocalization. And this feeling stayed with me as I wondered how I might move this poem into a bookwork.
Actually I did't know then, if or how, the text would move into a physical bookwork but I imagined it might. Maybe as a flip book, or an audio book piece, or perhaps it would take on some other form I thought.
The other day I finally completed a hand bound copy of book as. It took many months to finish photographing and working out all the images (photographed edges of books) for this 150 page bookwork, so it feels satisfying now to finally be able to hold and read through this rather simple and very thick flip book.
(Friday, December 4th, 2015)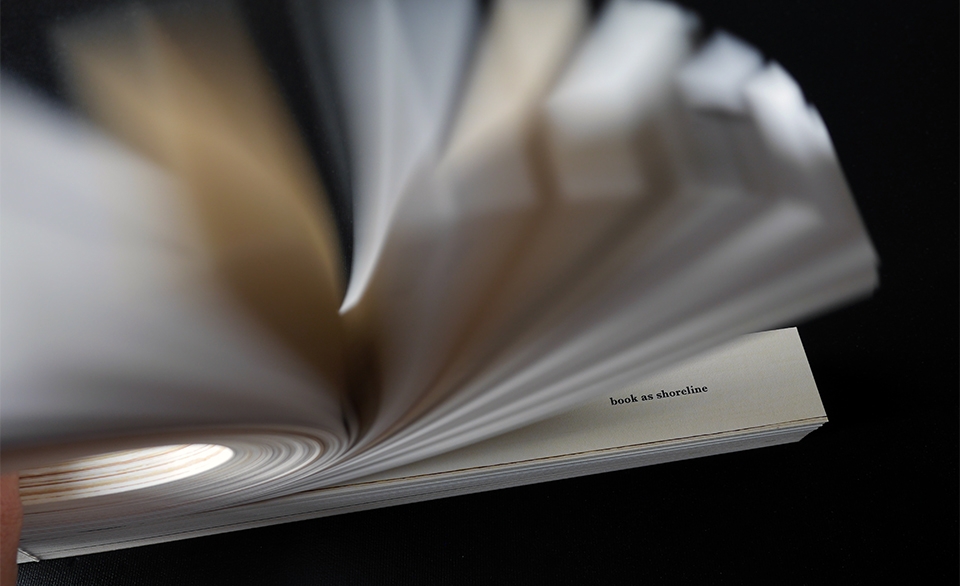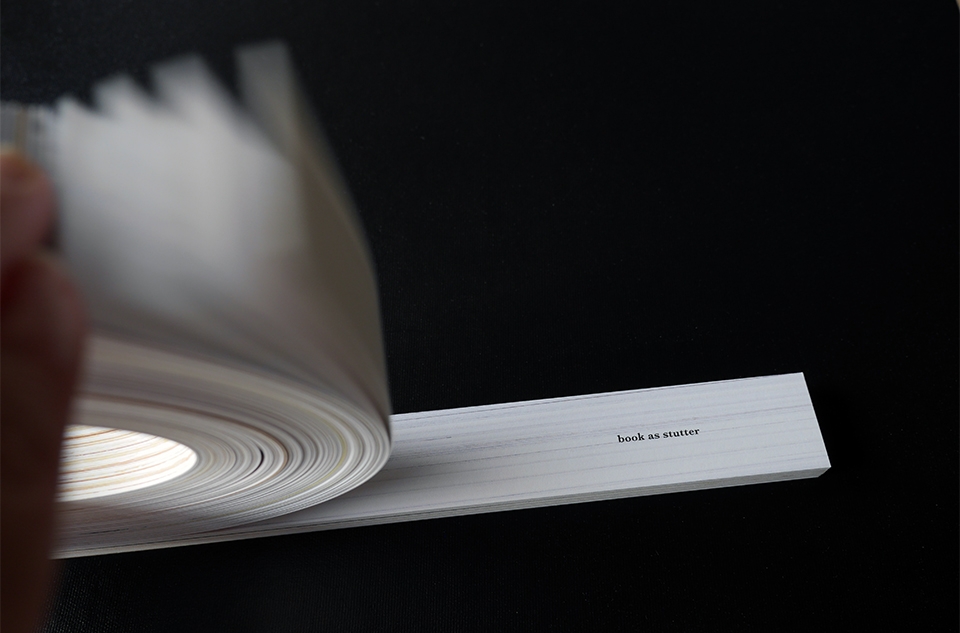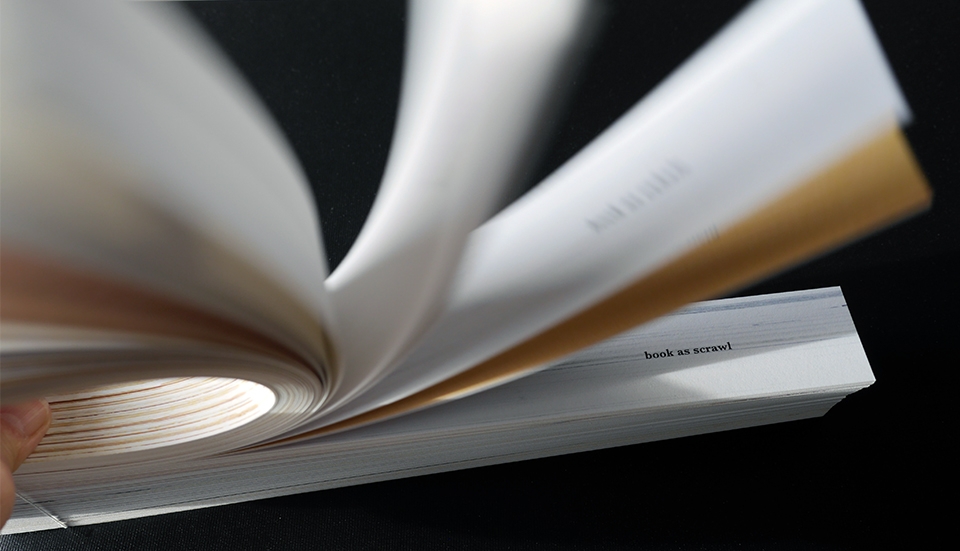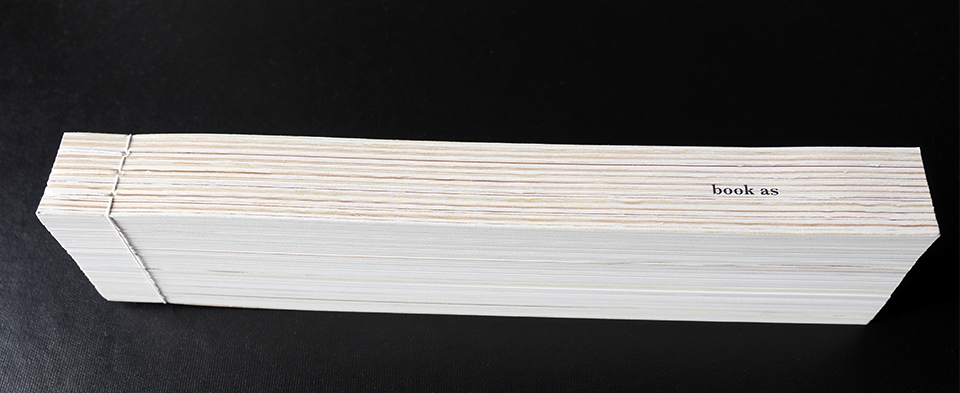 *   *   *
I decided to add an audio recording today, since I always felt that this piece needed to be read out loud. Besides, I recently got a new mic which I'm really happy working with.
(Tuesday, January 11th, 2022)
*   *   *
The following is the text version of the poem, which I finished writing on July 28th, 2015. It's the poem that I used in the book as bookwork:
book as

book as practice
book as loss
book as fracture
book as cough
book as query
book as she
book as pigeon
book as we
book as story
book as thought
book as spine
book as knot
book as trace
book as sound
book as silence
book as found
book as sliver
book as scrap
book as memory
book as splat
book as island
book as scent
book as vessel
book as dent
book as blur
book as flight
book as fusion
book as site
book as tender
book as chance
book as hope
book as glance
book as inhale
book as exhale
book as field
book as fold
book as scrawl
book as sip
book as remnant
book as lip
book as gesture
book as sign
book as drawing
book as line
book as glimmer
book as bit
book as scar
book as grit
book as blood
book as bone
book as structure
book as home
book as body
book as hand
book as river
book as land
book as warning
book as wrinkle
book as weight
book as signal
book as ocean
book as sky
book as where
book as why
book as walking
book as breath
book as mountain
book as rest
book as questions
book as tune
book as ashes
book as dune
book as sweat
book as string
book as fiction
book as spring
book as shiver
book as light
book as shadow
book as night
book as archive
book as map
book as shoreline
book as tap
book as darkness
book as deep
book as witness
book as weep
book as struggle
book as dream
book as shelter
book as spleen
book as tangled
book as heap
book as wonder
book as sleep
book as kindling
book as beast
book as freedom
book as feast
book as mass
book as mess
book as more
book as less
book as seedling
book as scratch
book as prism
book as patch
book as lungs
book as heart
book as choice
book as start
book as wound
book as pickle
book as fable
book as scribble
book as shutter
book as sigh
book as stutter
book as eye
book as comfort
book as flow
book as flapping
book as slow
book as whisper
book as wave
book as murmur
book as grave
book as is
book as if
book as word
book as whiff
book as shovel
book as spoon
book as book
book as moon
book as touch
book as ear
book as birthplace
book as here
book as spoken
book as heard
book as wing
book as bird
*   *   *