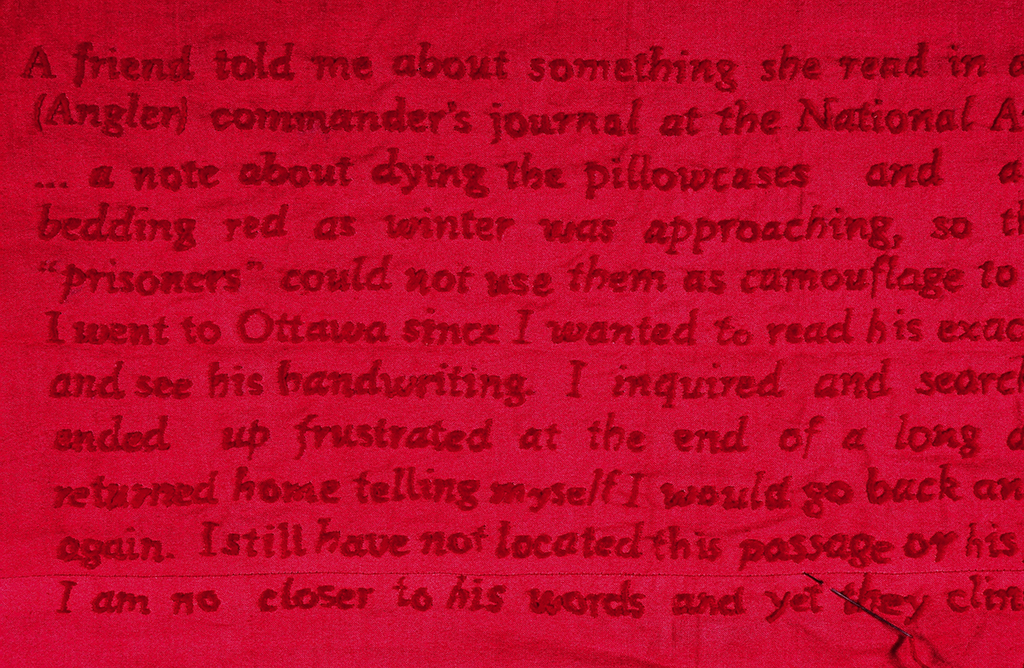 The following was embroidered on a tablecloth which was sewn out of old pillowcases, dyed red.
A friend told me about something she read in a camp (Angler) commander's journal at the National Archives … a note about dying the pillowcases and all the bedding red as winter was approaching, so that the "prisoners" could not use them as camouflage to escape. I went to Ottawa since I wanted to read his exact words and see his handwriting. I inquired and searched but ended up frustrated at the end of a long day and returned home telling myself I would go back and search again. I still have not located this passage or his journal. I am no closer to his words and yet they cling to me.
Shortly after my friend told me about this, I went to Vancouver. On the first night at the hotel, upon the bed were two plump pillows with bright red pillowcases – odd since they didn't match the rest of the bedding. It seems red will not escape me. It follows me everywhere but I will not let this colour that I loved so much as a child fill me with such discomfort. I will undo the seams. Re-stitch. Re-build. Re-write the red.