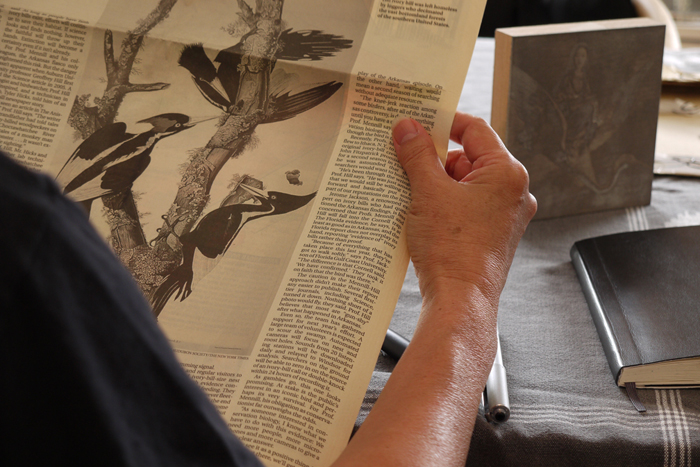 I have been thinking about and working on brief obituaries for quite awhile, but until recently none of the pieces were really working for me. They didn't feel quite right. It wasn't until I wrote these recent obit pieces, that I felt I was finally beginning to work something out.
These brief obituaries were written on August 8th & 9th, 2013 after a return to the newspaper article "The Legendary ivory bill lives again! Maybe" by Peter Christie, that appeared in The Globe and Mail on Saturday, September 30th, 2006.
As I did when writing the poems for a child's fable, these brief obituaries were written using only words and punctuation that appeared in the newspaper article and in the order of their appearance. Here on this wings walking water website I thought I'd share a few of the brief obits.
I knew that eventually they would need to be given tangible form and I continued to think about how I wanted these pieces to function. The images following the brief obits are of the bookwork I completed on September 3rd, 2013.
"double knock" is the sound that the ivory billed woodpecker apparently makes, bill to wood.
This bookwork was printed and assembled in an edition of 22.
* * *
double knock (nine brief obituaries for Campephilus principalis)
1.
a suspect sighting
elusive —
thought to have died off in the middle of flapping,
hiding out in a bold claim.
the legendary
interferes with the geography.
2.
the fiasco heightened the risk.
the danger inspired a story.
4.
Second chances rare.
the writer looks and finds nothing.
will risk the danger his grandfather told
of dark water and flooded forest.
inexperienced,
he agreed to live in the sounds
on faith.
7.
legendary lore remembered
In two fuzzy photographs.
critics defended the photos,
organized a field-recording project,
agreed to live in the machines
precariously,
paddled through evidence that skeptics questioned.
this difference in approach, turned down, they said
in the public's interest.
9.
Last year, the search announced the magnificent
thought to have died in the interior. It arose —
wrote blurry footage
desperately flapping to the disillusioned,
silenced the bad taste,
Announcing a cold claim to the faithful. one bird
stuck his neck out, seen fueling, willing to go forward.
less concerned after listening to the double knock
it gambles its survival.