book as (the start of a process)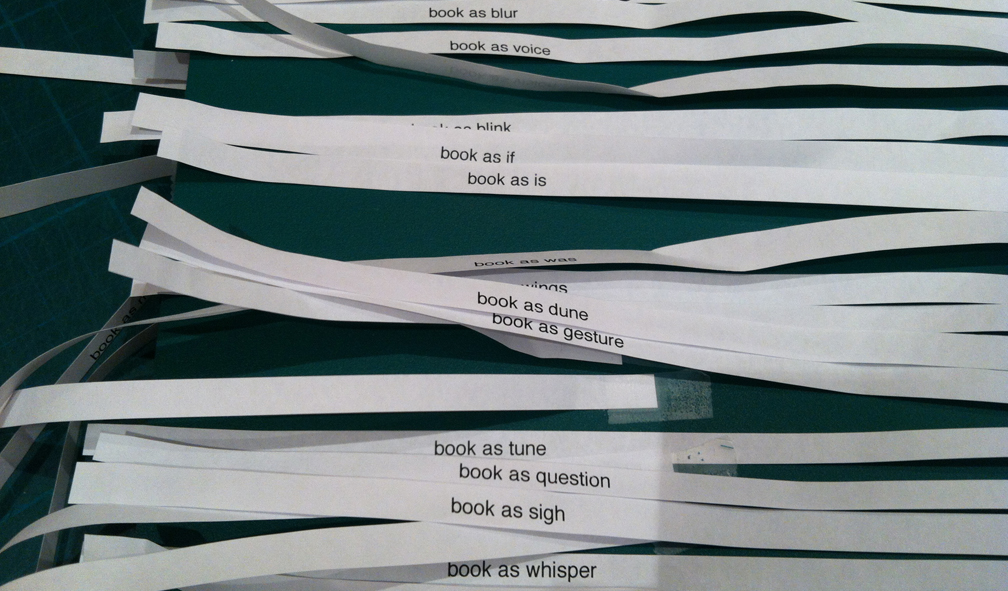 book as
book as body
book as stream
book as letter
book as seam
book as island
book as wind
book as slippage
book as flight
book as ashes
book as barge
book as stone
book as large
book as needle
book as dune
book as gesture
book as tune
book as question
book as sigh
book as whisper
book as eye
book as vision
book as voice
book as paddle
book as choice
book as wonder
book as hand
book as water
book as land
book as mass
book as mess
book as more
book as less
book as rubble
book as wake
book as silence
book as lake
book as poem
book as page
book as loss
book as found
book as pocket
book as pit
book as glimmer
book as bit
book as witness
book as sight
book as scar
book as delight
book as query
book as mail
book as drawing
book as veil
book as she
book as we
book as if
book as is
book as spoken
book as heard
book as beast
book as bird
book as shadow
book as light
book as morning
book as night
book as blur
book as blink
book as touch
book as think
book as reading
book as sleep
book as tangled
book as heap
book as port
book as sip
book as sleeve
book as sweat
book as grit
book as ear
book as sound
book as wet
book as pigeon
book as girl
book as wound
book as wave
book as seepage
book as line
book a blood
book as grave
 *  *  *  *  *  *  *
This running reflection book as was written on July 17th & 18th, 2013.
I don't know yet if or how this text will move from here into a physical bookwork, but I imagine it as one. Maybe as a flip book or an audio book piece or perhaps it will take on some other form.
One thing I felt while working on this piece was that it had to be read out loud. It seemed to need that kind of vocalization.
 *  *  *  *  *  *  *
In 2015, I ended up creating a very thick flipbook titled book as, that grew from this initial running reflection.